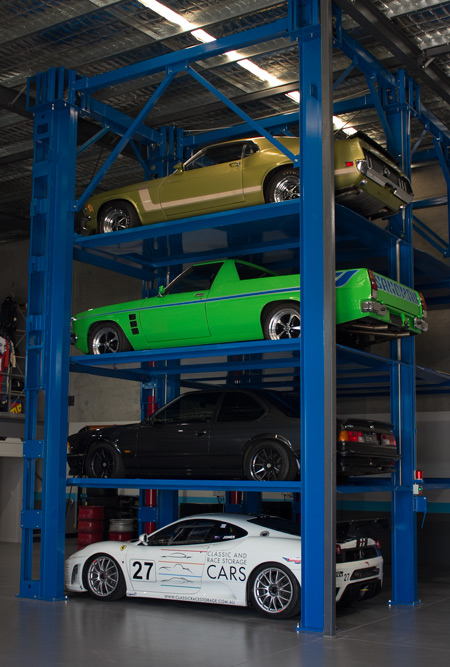 CARS Classic and Race Storage offers a discreet and secure car storage environment for your valued vehicle. We tailor our services to meet each individual client's needs to ensure a first rate service at a competitive price.
At CARS Classic and Race Storage, our car storage facilities deliver the ideal environment to store classic or race cars of any kind; if you're searching for short-term storage for multiple vehicles, or long-term storage space for a classic car or a superannuation investment motor. Perhaps you require storage for a private collection during a house relocation or maybe during your overseas vacation. The ideal option if you live interstate or overseas and own a holiday home on the Sunshine Coast, as we can arrange to meet you on arrival at the Sunshine Coast Airport with your favourite car, ready for your coastal holiday.
Our storage warehouse offers climate-controlled facilities with a bespoke service provided by our fully trained team at all levels. Our additional services are available for all your automotive requirements while in storage, which may include valet, maintenance and routine checks.
If you use CARS Classic and Race Storage, you can be assured that your vehicle will receive professional care and attention in a secure, monitored environment with experienced staff always available. We believe in excellent service and personal attention to our clients and offer nothing less than the gold standard in vehicle storage.
We offer a comprehensive range of storage options and a member of our team will be delighted to discuss your individual requirements for your vehicle and provide you with a quote. Insurance companies will reduce your insurance premiums if your car is stored in a secure, alarmed, storage facility such as ours.
If you would like further information regarding our tariffs, please call us on 07 54451724 or 0447 123 183 or contact us via email at info@classicracestorage.com.au
Your vehicle is naturally very important to you, and you want anyone dealing with your car to care for it as you would yourself. We have a passion for cars and our aim is to offer a one-stop, bespoke storage facility for your investment on wheels.
Documents:
Vehicle Storage Agreement